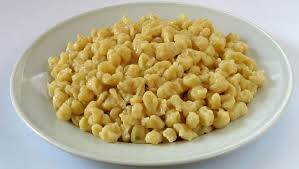 Drop Dumplings (Spaetzle)
Humble Beginning for Cherished Recipes
Food Service
Serving Size
: 2 oz. (57g) Drop Dumplings
Servings Per Unit
: 8
Units Per Case
: 12
Retail Product
Packaging
: 10# IQF (2 5LB Bags)
Servings per Case
: 80
Nutrition Facts
Serving Size: 2 oz. (57g); Calories 70; Fat Cal 10; Total Fat 1.0g (2% DV); Sat Fat 0 (0% DV); Trans Fat 0g; Cholesterol 40mg (13% DV); Sodium 270 mg (11% DV); Total Carb 14 (5% DV); Dietary Fiber 0g (0%); Sugars 1g; Protein 3g; Vitamin A (0% DV); Vitamin C (0% DV); Calcium 0%; Iron 6%;
Percent Daily Value (DV) are based on a 2000 calorie diet.
Drop Dumpling, also known as Spaetzle, are a type of egg noodle, little balls of dough with a soft texture found in the cuisines of southern Germany and of Austria, Switzerland, and Hungary. Drop Dumplings are used in European countries to expand and enhance many family meals. In Hungary drop dumplings are called nokedli and traditionally are served in chicken paprikas. Drop Dumplings can often be found in soups, meat stews, and Goulash. Drop Dumplings have become very popular In the United States because of their ease of use, versatility and links to traditional Old World recipes.
Satisfying
Old World Foods Drop Dumplings are made the old fashioned way. Flour, egg and salt are mixed together then dropped into boiling water and cooked, and then Individually Quick Frozen. They can be fried and are the perfect addition to soups, sauces, and other family recipes.
Simple and Versatile
Old World Foods Drop Dumplings are totally cooked and ready to be added to soups, sauces, stews and other main course dinners. As with other Old World Foods products, the Drop Dumplings offer a ready-in-minutes addition to a meal option. Since they are frozen, you can enjoy them at any time in a variety of ways. Serving options are never-ending for the creative chef who can use Old World Foods Drop Dumplings in main dishes, side dishes, snacks, or if you're very creative, appetizers.
Cooking Options
Since the Old World Foods Drop Dumplings are precooked it is only necessary to heat thoroughly. Typically the Drop Dumplings are added near the end of the cooking process. Other heating options include:
Stove Top

: Place frozen dumplings into boiling water, then turn off heat, let set for 3-5 minutes.

Oven

: Coat Drop Dumplings with oil or butter and place in baking dish uncovered and bake for 10-15 minutes or until Drop Dumplings are brown and crispy. For better results turn Drop Dumplings over half way through baking cycle.

Deep Fry

: Deep fry Drop Dumplings in 3500 oil until crispy and browned (1-3 minutes).

Microwave

: Use this method for reheating only. Place Drop Dumplings with butter in microwavable bowl and heat for 1-2 minutes .
Serving Suggestions
Drop Dumplings typically accompany poultry, meat, or seafood dishes prepared with abundant sauce or gravy, such as Old World Foods Paprikas Specialty SauceTM, brown gravy with beef, or tomato base sauces with shrimp or other seafood. Using Drop Dumplings allows the flavor of all your favorite dishes to come alive. Drop Dumplings are used as a primary ingredient in dishes including:
Main Dishes:
Chicken Paprikas: Add Drop Dumplings the final ten minutes to your favorite chicken paprikas recipe. Try our savory Old World Foods Paprikas Specialty SauceTM as a time saving alternative.
Kielbasa, sauerkraut and Drop Dumplings
Haluski, Fried Cabbage and Drop Dumplings: Substitute Drop Dumplings for egg noodles
Pork Tenderloin with sauerkraut and Drop Dumplings.
Soups: Add Drop Dumplings to your favorite soup to make a warm and hearty meal.
Soup and Sandwich: Add Drop Dumplings to creamy tomato soup and served with grilled cheese. Drop Dumplings soup and sandwich combinations are endless
Side Dishes: Drop Dumplings are the perfect match to any dish used instead of rice, potatoes, or noodles.
Creative Alternatives: Drop Dumplings Stroganoff, Drop Dumplings with Marinara Sauce, Peanut Sauce, and any other creative combinations.
Appetizer: Deep fried then served with dips such as Ranch Dressing, Sour Cream and Chives, Gertie's BBQ, Soy, Cheese & Salsa, Hummus, Horseradish sauce. Additionally as a dessert with honey and lemon peel, cinnamon, powdered sugar, combined with fruit to make a delicious cobbler.