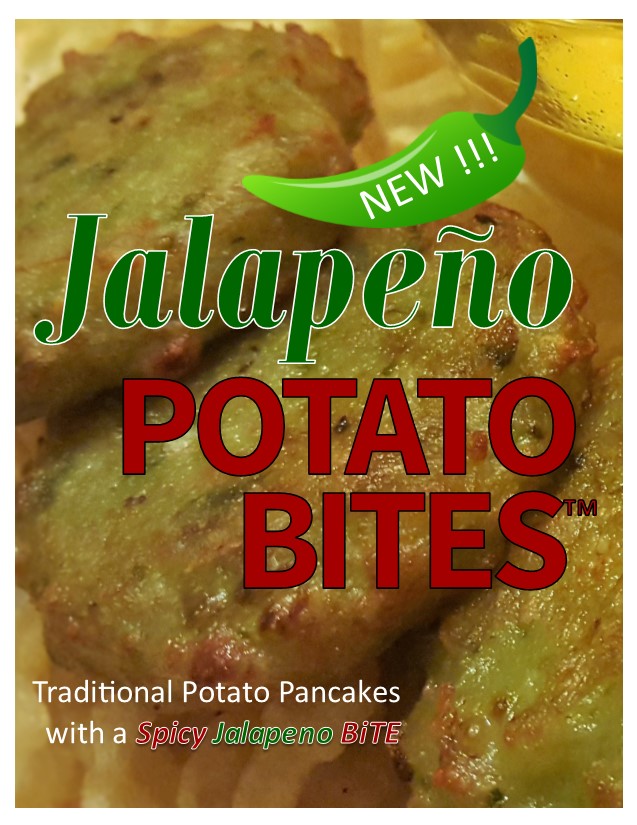 Jalapeño Potato Bites™
Traditional Potato Pancakes with a Spicy Jalapeño Bite
Traditional Potato Pancakes with a Spicy Jalapeño Bite
Nutrition Facts
Serving Size: 3 Traditional Potato Bites™ 3(.67g 2.2oz); Calories 120;fat cal 15; Total fat 2g(3% DV); Sat fat 0mg(0%DV); Trans fat 0g; Cholesterol 15mg(5% DV); Sodium 300mg(13%DV); Total Carb 23g(8% DV); Dietary Fiber 1g(4%); Sugars 1g. Protein 3g; Vitamin A 0%DV; Vitamin C 20%DV; Calcium 2%; Iron 10%; Percent Daily Value (DV) are based on a 2000 calorie diet.
* Individual product size is approximate. ** Based on large potato pancake; Traditional Potato Bites™ is approximate.
Potato Pancakes
Potato pancakes originated as a staple, easy to create tasty dinner option in many Eastern and Western European countries. The original recipe called for potato, onion, egg, flour and seasoning which was formed into a shallow pancake and fried until golden.
Introducing Potato Bites™
Old World Foods started with this fundamental recipe and created Potato Bites™, a bite size appetizer to appeal to today's discerning new world customer all while keeping the delicious bold flavors. Old World Foods is continuing to develop additional Potato Bites™ flavors to satisfy the ever changing taste trends of new world customers.
Chef Preferred
Old World Foods Potato Bites™ are currently available in two Flavors Traditional and Jalapeno. Old World Foods Potato Bites™ are just under an ounce each and are approximately two inches in diameter. The ingredients for the Potato Bites™ are cut fresh never frozen and there are no preservatives or flavor enhancers used in the manufacturing process. Potato Bites™ are pre-cooked and Individually Quick Frozen to preserve freshness and flavor. The Jalapeno Potato Bites™ are designed to be slightly more plump to lock in the extra flavor of the seeded diced Jalapeno peppers. The two flavor choices enable chefs to serve potato pancakes as main dishes, side dishes or appetizers. The manufacturing process at Old World Foods allows us to customize sizes to accommodate the needs of the customers.
Versatile
The Potato Bites™ should be prepared from frozen which enables the chef to choose just the right quantities needed to accommodate orders, thus maintaining inventory control. Old World Foods Potato Bites™ can be cooked and then refrigerated without loss of color, texture or flavor. Quality control in the manufacturing process means each Potato Bites™ will be the expected size and there is not any loss from shipping. In addition the simplicity in preparation assures the quality is maintained serving after serving.
Cooking Options
Since the Old World Foods Potato Bites™ are precooked it is only necessary to heat thoroughly.
Options to heat thoroughly include:
Deep Frying – For best results. Large: 90 seconds in 350o oil (slightly less time for the mini), creating a golden brown outside and soft moist inside. This process seals in the old world flavor.
Pan frying - Heat small amount of oil to 350o and heat each side of Potato Bites™ until golden brown.
Baking – Preheat oven to 450o place Potato Bites™ on cookie sheet in oven for ten minutes, flip once.
Microwave oven is only recommended for reheating after one of the above methods. Do not over cook.
Serving Suggestions
The possibilities are endless for this delicious versatile food. The imagination of the chef leads to their success. Old World Foods has seen their Potato Bites™ prepared in a variety of ways, including:
Main Dish – Traditionally topped with apple sauce, sour cream, jams, jellies, or syrup.
Alternatively topped with salsa, other sauces, cheese, powdered sugar.
Creative Alternatives – French fry substitute, sliders, walking trays, sandwich filler.
Breakfast, Dessert – Hash brown substitute, topped with sausage gravy, or fresh fruit or fruit fillings.
Appetizer – Potato Bites™ make a great appetizer when used with dipping sauces or topped with sliced vegetables, spreads, cream cheese, or just serve.