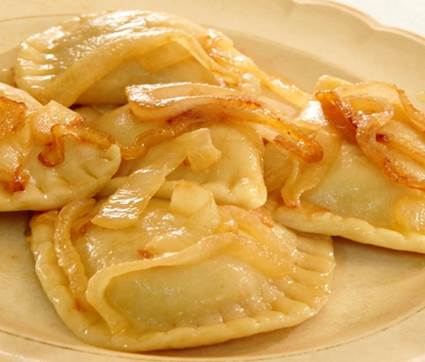 Pierogi
Delicious Traditional Comfort Food
Food Service
Pierogi
: 1.5 oz
Packaging
: 20.0 Ibs per Case
Quantity per Case
: 216
Retail Product
Pierogi
: 1.5 oz
Retail Package
: 9 pieces
Packages per case
: 18
Nutrition Facts
Serving Size: 3; Calories 190; Fat Cal 20; Total Fat 2.5g (4% DV); Sat Fat .05g (3% DV); Trans Fat Og; Cholesterol 0mg (0% DV); Sodium 450mg (19% DV); Total Carb 38 (13% DV); Dietary Fiber 4g (16); Sugars 3g; Protein 5g; Vitamin A (0% DV); Vitamin C (0% DV); Calcium 4%; Iron 10%.
Percent Daily Value (DV) are based on a 2000 calorie diet.
The pierogi is the Polish form of the Italian ravioli made with flour, egg and salt. pierogi are popular with the Eastern and Western European countries, the Poles, Slovaks, Czecks, Russians and Ukrainians. Traditionally a peasant food, they have gained popularity within all social classes. pierogi were first used as a family meal especially during the holidays, but by the 1960's they were common place in most U.S. supermarkets. Old World Foods pierogi are part of the tradition of European home cooking.
Mouth Watering
Old World Foods Pierogi are tasty and nutritious. They are made with very light textured dough, and filled with potato and cheddar cheese with a hint of onion, then Individually Quick Frozen. The proportion of more filling and less dough provides the perfect balance of flavors. Old World Foods Pierogi are a good source of protein and fiber and are low in fat.
Simple and Versatile
Old World Foods Pierogi are ready to heat and serve alone or enhance many different dishes. As with other Old World Foods products, the pierogi offer a ready-in-minutes meal option that normally would take hours to prepare. Since they are frozen, you can enjoy them at any time in a variety of ways. Traditionally they are prepared by boiling then served with sauté onions and butter for the European garnished comfort food. Serving options are never-ending for the creative chef who can use Old World Foods Pierogi in main dishes, side dishes or appetizers.
Cooking Options
Since the Old World Foods Pierogi are precooked it is only necessary to heat thoroughly. Heating options include:
Boiling…Recommended! – Add frozen pierogi to boiling salted water and cook until they float or when pricked with a toothpick the toothpick encounters no frozen area. Over boiling can make the pierogi "pinch" separate. Cooking time is approximately 6-8 minutes.
Oven –Coat pierogi with oil or butter and place in baking dish uncovered and bake for 15-20 minutes or until pierogi are brown and crispy. For better results turn pierogi over half way through baking cycle.
Deep Fry – Deep fry pierogi in 350 degree oil until crispy and browned (3-5 minutes).
Microwave-Use this method for reheating only. Place pierogi, butter and onions in microwavable bowl and heat for 1-2 minutes .
Serving Suggestions
The possibilities are endless for this humble peasant dish. Pierogi can be combined with a variety of other foods to make unique and delicious meals. The imagination of the chef leads to their success. Old World Foods has seen their pierogi prepared in a variety of ways, including:
Main Dishes:
Traditional: Sauté onions in butter and combine with cooked pierogi; set aside. Brown 2 oz. of butter and ladle over perogi and onion combination and serve.
Combine frozen pierogi with shredded cabbage and bake at 3500until cabbage is done.
Baked sliced pork tenderloin with sour kraut and pierogi.
Side Dishes: Pierogi are the perfect match to any dish used instead of potatoes, or noodles.
Creative Alternatives: Pierogi with Paprikas Specialty SauceTM and Chicken Breasts, Pierogi Stroganoff, Pierogi with Marinara Sauce, Peanut Sauce, and any other creative combinations!
Appetizer: Deep fried then served with dips such as Ranch Dressing, Sour Cream and Chives, Gertie's BBQ, Soy, Cheese & Salsa, Hummus. Horseradish sauce. Additionally as a dessert with honey and lemon peel, cinnamon, powdered sugar.